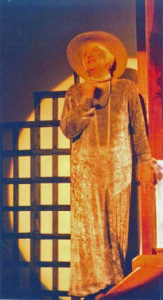 Alison Luna Bursary for Performing Arts
In honour of a dearly loved, distinguished and highly talented member of the Charlton Kings Community Players, who died in 2004, we offer each year one or more bursaries of £100-£150 to students of Performing Arts.
Applicants would normally be under 21, having been selected for a bona fide drama-related course which may include a backstage specialism.  Exceptionally a more mature student, studying, say, writing or directing, could be considered.  Priority will be given to residents of Charlton Kings or who were active locally but have moved away. Anyone who has acted or worked backstage effectively with the Players will have an advantage.
If you would like to apply for the Alison Luna Bursary, please include the following details:
details of your course and the location of your studies;
your reasons for choosing 'Performing Arts' and this particular course;
any future plans you may have for making use of the course after your studies;
your thoughts on how you may use the bursary.
Please enter the details into our enquiry form: Click Here>>