Join our email contact list for news of all future events. To subscribe, please click here.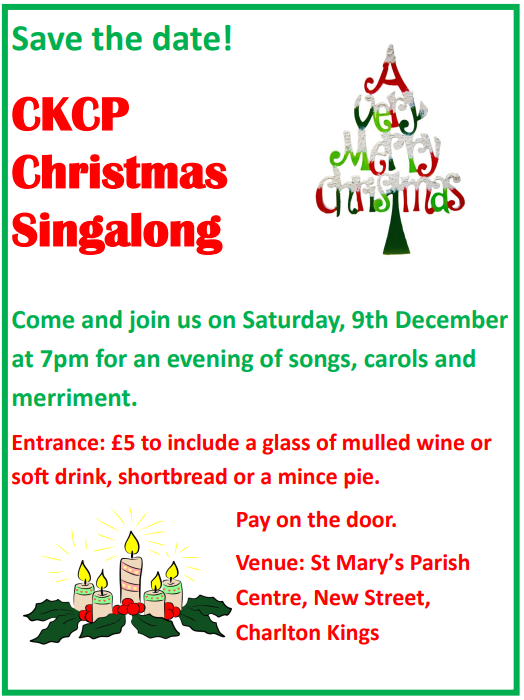 Christmas Sing-a-long 9th December 2023 in St Mary's Parish Centre, 7pm-9pm
Please come and join the Charlton Kings Community Players in a celebration of Christmas with seasonal readings and lots of songs and carols for you to sing-a-long to. Tickets are £5.00 each to include a glass of mulled wine, wine or a soft drink together with a mince pie or shortbread and there will be a raffle during the interval.
Tickets on sale at the door which will open at 6.45.  Please note that you will need to bring cash for this event.
 Walk of Witness 2023
Charlton Kings Community Players have been taking part in the Charlton Kings Churches Together 'Walk of Witness' most Good Fridays since 1992. They have performed a piece of street theatre in the Church Piece Precinct, which is one of the stations of the walk. This is the offering for 2023,  a sketch called 'Peter's Denial' written by Peter Grainger, and originally performed as street theatre outside the library in Charlton Kings in 1992.
CKCP February Newsletter
The latest CKCP newsletter is now available
here
CKCP Record Guide
This three-part set of the Players' Performance Record not only provides detail of some thirty years of 'doing' in the community, but also scans of the programmes and a selection of photographs.
Charlton-Kings-Community-Players-Photograph-Supplement-issue-11.pdf
Charlton-Kings-Community-Players-Programme-Supplement-issue-11.pdf
Charlton-Kings-Community-Players-record-guide-issue-11.pdf
Play Readings
We've been enjoying regular play readings since early in 2020. They've given participants
opportunities to try out different character parts, and for the Players to explore new pieces
which could be performed 'live'.
Our reading of an adaptation of Jane Austen's 'Pride and Prejudice' has resulted in the issuing
of an audio production as currently advertised. A request out in the community, for
submissions from creative writers for sketches to be performed, resulted in lively and thought-
provoking results. A one act play was also submitted and it is hoped that the Players will be
able to mount a live production in 2022.