Around 200 folk enjoyed Let Us Be Merry!
Click on image for Photo Storybook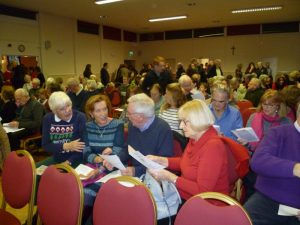 A Christmas Celebration
was performed on Wednesday 6th December 2017 at 7.30 pm
at Sacred Hearts Church Hall
Compèred by Sue Drinkwater, the programme included:
Music – The Wednesdays Choir; Solo Pieces, including soprano Emma Price and Carol Axford – harmonica; Puzzlejug Folk Group and Audience carols.

Drama – 'The terrible affliction' – Martyn Fry directing; 'God bless us everyone' – Derek Palmer coordinating; ' Starlight Expressed' – Martyn Fry and Jane Jones.

Readings/Monologues by Linda Hurl, Brenda Simpson, Lynne Glover, Sylvia Fry, Sue Vickers, Joyce Parsons and Peter Simpson.