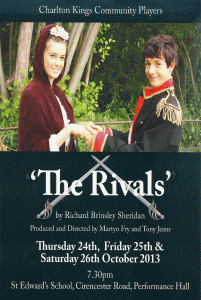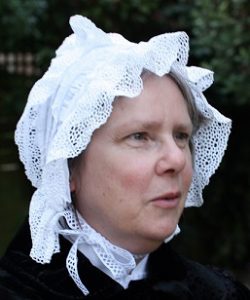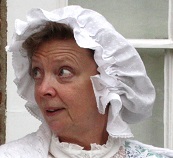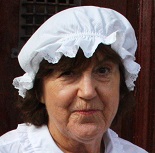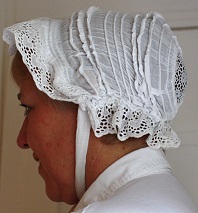 PRESS RELEASE
The Rivals – Bonnets
Charlton Kings Community Players recent highly successful production was Sheridan's The Rivals,  performed on 24th, 25th and 26th October 2013 at 7.30pm at St Edward's Senior School Performance Hall, (Cirencester Road).The play was originally set in Bath in the 1780s but this production located it in  Cheltenham around 1850.
One of the Production Team, who researched the costumes for the play's setting, explains , 'I happened to be looking for items on eBay, and was attracted by news of a current auction of bonnets and mop caps.  It was a wonderful surprise to discover some splendid original ones for which I was able to bid successfully'.
View original Press Release PDF
For more information on the Production, contact the producers/directors: Martyn Fry 01242  239903 or Tony Jeans 01242 820409
Note for Editors – see also web site http://www.charltonkingscommunityplayers.com/
Charlton Kings Community Players (CKCP) drama group was set up in March 1992 to "encourage faith, fun and fellowship through ecumenical involvement in a variety of drama and musical activities for all ages."  It is a voluntary unincorporated community organisation with open membership through participation in artistic activities. It is not a 'club'. It is linked to and supported by the Churches of Charlton Kings, but participation is unrestricted by individual personal beliefs.
Members are drawn from all the churches in the village, but anyone who lives, works, attends school in Charlton Kings, or has strong connections with the village, is welcome to join in any of the activities. All productions have open auditions and encourage participation by people of all ages.  The productions offer opportunity for involvement in drama, music, dance, lighting, back stage operations, production design, costume, promotion and other aspects of the performing arts.
Productions in 2013 have been :-
 "Let us be Merry – Winter Gifts" in January consisting of sketches, readings, musical items and seasonal songs;
"A Man for this Season" in April – a contemporary Passion Play written and produced by Peter Grainger, a member of the Players;
A Double Bill of One Act Plays – "The Thirty Nine Steps" and "The Ghost Train" in August.
Sheridan's "The Rivals" in October.